An Invitation to St. Boniface
A Parish Wide Faith Formation Experience
---
Please join us in this newly created opportunity to grow in fellowship and faith in Christ with your friends and family here at Saint Boniface!
---
---
THE LAST SUPPER
---
---
---
Matthew 26:26-30
Now as they were eating, Jesus took bread, and when he had said the blessing he broke it and gave it to the disciples. "Take it and eat," he said, "this is my body." Then he took a cup, and when he had given thanks he handed it to them saying, "Drink from this, all of you, for this is my blood, the blood of the covenant, poured out for many for the forgiveness of sins. From now on, I tell you, I shall never again drink wine until the day I drink the new wine with you in the kingdom of my Father." After the psalms had been sung they left for the Mount of Olives.
CONNECT ON
FACEBOOK
---
We would love to see 30 active Last Supper Club groups registered by the end of the year.  Please consider starting a group and tell us about it on Facebook!  You can post pictures of your event and send reminders of future gatherings.  Others looking to join a group can connect via Facebook, as well. We will update the page with the current topics and video selections from FORMED.org so that you have plenty of time to choose your video for the month.

Search: St. Boniface Last Supper Clubs on Facebook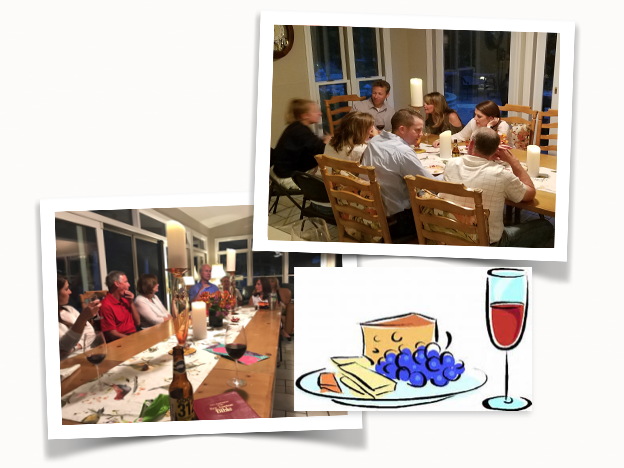 WHAT ARE LAST SUPPER CLUBS?
---
---
At the Last Supper, Jesus gave us one of our most precious gifts, the celebration of the Eucharist. We don't often focus on what else was happening that evening. It was Passover, Jesus and his friends, the apostles, were celebrating together with food, drink, friendship and conversation. The Last Supper Club is an opportunity for members of St. Boniface to gather with friends and family in the same celebratory fashion as Jesus and the apostles during the last supper; enjoying a meal, rich conversation and building relationships. During the gathering there will be a short vignette, a 10 to 20 minute video, to learn more about your faith, which may spark further conversation. The topics and resources have already been identified for you. There is no homework or advanced preparation. Simply gather your friends to share fellowship, faith, and fun.
---
---
HOW LAST SUPPER CLUB WORKS
---
---
---
Once you have extended an invitation to your chosen group, go to www.st-boniface.com and click on the link to STB Last Supper Clubs Menu. There you will find the topic for each month with three video clips to choose from for your Last Supper Club guests. For example, the November topic for discussion is Sacred Scripture. Most video clips are no more than 20 minutes and provide discussion questions or reflections on the monthly Last Supper Club topic.
---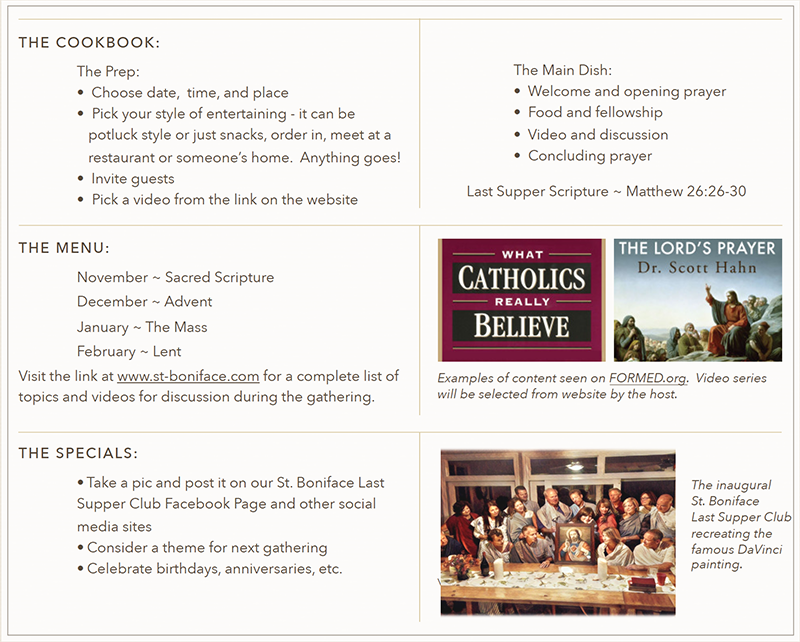 ---
---
MONTHLY TOPICS
---
---
---
November 2017: Sacred Scripture/Bible
December 2017: Liturgical Year/Advent
January 2018: The Mass
February 2018: Lent/Penance
March 2018: Initiation Sacraments/Baptism, Confirmation, Eucharist
April 2018: Catholic Social Teaching/preferential options for the poor, labor, Catholic media
VIDEOS APRIL

QUESTIONS APRIL
May 2018: Mary/Saints and Angels
June 2018: Matrimony/Holy Orders/Life Vocations
Will I Ever Find 'The One'?
July 2018: Potpourri/Mix bag of subjects
August 2018: Why do you (Catholics) do the things you do?
3 Reasons Why We Genuflect?

Why Catholics Don't Eat Meat During Lent
September 2018: St. Boniface History
Coming Soon

Content will be added when available.
October 2018: End of Times/Last Thing
Coming Soon

Content will be added when available.